1 Bedroom 2 Night Stay
Posted in
Accommodation
@
Dec 29th 2014 5:15pm
- By Administrator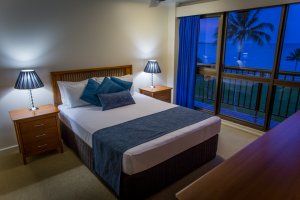 Take advantage of our special offer and book your stay at Coral Towers Holiday Apartments. Our Cairns Apartment Accommodation has discounts to help you make the most of your holiday. Stay for a minimum of two nights at our one bedroom oceanview apartment and enjoy reduced rates. Pay as low as $358 for a two night stay. Rates vary, so check our website to get the best deals.
The one bedroom oceanview apartment includes a full kitchen, laundry facilities, free cable TV, DVD player, a private balcony, and ensuite bathroom. The one bedroom apartment can accommodate a maximum of two guests. Ideal for couples and solo travellers, book your stay at our Cairns Apartment Accommodation.
We also have a two bedroom apartment, deluxe two bedroom apartment and penthouse. Whether you are travelling with a large group or a small group, we have apartments to suit your needs.
The penthouse apartment is ideal for family holidays. The spacious penthouse apartment has two bathrooms, a kitchen, laundry facilities, cable TV, DVD player, and a private balcony. Prepare gourmet meals in your very own kitchen. Catch the stunning views from the private balcony.
Aside from our well-appointed apartments, we also have guest facilities for your comfort and relaxation. Take a break and indulge in a refreshing swim in the swimming pool and heated spa. Soothe your tired muscles by soaking in the heated spa. We also provide WiFi access, so you can easily stay in touch with family and friends. Stay connected and know about the latest news. We also provide a tour desk to help you plan your itinerary. If you need help planning tours and arranging transportation, we have a tour desk staff that can help you.
Hurry and grab the opportunity to stay at our one bedroom apartment for two nights at discounted rates.
For booking information, please visit http://coraltowers.etourism.net.au