10 Absolute Best Things to Do in Cairns City CBD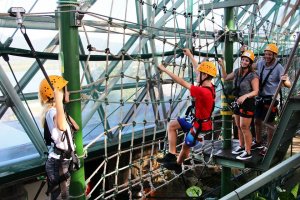 10 Absolute Best Things to Do in Cairns City
Aside from its reputation as the gateway to the Great Barrier Reef - along with its close proximity to Far North Queensland's best beaches - Cairns City has a wealth of exciting things to do in and around the CBD: from world-class shopping centres and restaurants to scenic parks and tourist attractions that simply shouldn't be ignored.

In a short read, and ideal for your next Cairns holiday, here are 10 top things to do in Cairns City!
Cairns Esplanade
Cairns Esplanade spans the city oceanfront and is simply diverse in what it has to offer; a vibrant location where both locals and tourists come together for sunrise jogging, park relaxation and unique dining experiences with views of the ocean.

Stroll the palm tree-lined boardwalk to take in its uninterrupted ocean views and tuck into food from local vendors and cafés. Take a time out in the numerous parks that populate the Esplanade, then reach the Esplanade's southernmost point to find…
Cairns Esplanade Lagoon
This gem at the end of Cairns Esplanade is a public swimming precinct with picnic benches, BBQ facilities and simply breathtaking views encompassing the sparkling Pacific Ocean and Trinity Reserve in the south-east.

Lifeguard-patrolled and complete with man-made beach areas and direct access to the adjacent sand and sea, Cairns Lagoon offers a memorable swimming experience for holiday-making families and couples.
Muddy's Playground
For families with kids, Muddy's Playground is another Cairns attraction on the Esplanade that's sure to provide a few hours of fun and laughter for kids and toddlers.

Find it midway along Cairns Esplanade near Skate Plaza, where you can prepare a family picnic as the little ones entertain themselves with a variety of playground amenities, slides, water jets, sandy areas and shallow wading pools.
Munro Martin Parklands
The Munro Martin Parklands is one of Cairns City's most popular parks, under a 10-minute walk from Muddy's Playground.

When it's not playing host to festivals, concerts and seasonal community events, Munro Martin Parklands is the perfect spot to kick back and unwind, offering relaxing open spaces, shady trees, pergolas and gardens where picnics, strolls, sunbathing and other leisurely pursuits guarantee a perfect change of scenery and pace in the city.
Cairns Aquarium
A stone's throw from Munro Martin Parklands, visit Cairns Aquarium for the ultimate marine life experience in Tropical North Queensland. This state-of-the-art aquarium boasts 71 tanks and more than 16,000 species to meet, complete with interactive activities and daily presentations that allow you to see its thriving marine life species in action.

There are jellyfish, rays, turtles, frogs, reptiles, sharks and more at Cairns Aquarium for a full day out of fascinating ocean discovery, with opportunities to dive with sharks, embark on a virtual 5D submarine adventure and go behind the scenes with a tour guide.
Cairns ZOOM Wildlife Dome
Cairns ZOOM and Wildlife Dome is a unique tourist attraction located at the top of The Reef Casino. Pairing thrilling hands-on activities with wildlife encounters, Cairns ZOOM Dome is an unforgettable experience for kids and adults alike involving animal interaction and physical challenges for an action-packed afternoon.

Adventure activities include zip lines and rope climbs among resident wildlife species such as koalas, sugar gliders, parrots, green tree frogs, lizards and crocodiles!
The Pier Cairns
The headland pier is one of the best shopping and dining destinations in Cairns, making up The Pier Shopping Centre and a number of world-class waterfront pier restaurants with views across the marina.

Shop fashion and gifts in The Pier Shopping Centre - boasting retail shops, boutique stores and more - then stroll the pier itself to find famous Cairns restaurants such as Prawn Star, Tha Fish, Salt House and Piato.
Cairns Central Shopping Centre
Cairns Central is the city's largest shopping centre and the ultimate destination for shopaholics on holiday looking to pick up new beachwear, rare wardrobe additions and accessories under one roof.

Across two expansive storeys with almost 200 establishments, find upmarket fashion brands, boutique stores and all your favourite food chains, fast-food outlets and juice bars, in addition to an eclectic assortment of luxury restaurants, spas and salons.
Kuranda Scenic Railway
Located next to Cairns Central Shopping Centre, Kuranda Scenic Railway is a city railway with a history dating back to the early 20th century, offering a scenic train route departing from the CBD to the rainforest town of Kuranda, passing lush rainforest scenery, bridges, tunnels and gushing waterfalls.

The train ride lasts two hours, after which you can explore Kuranda's Village in the Rainforest, or hop on the famous Skyrail Rainforest Cableway in Smithfield.
Great Barrier Reef Tours
The Cairns CBD is a hub of premium Great Barrier Reef tour operators, each offering daily tours and packages that involve swimming, diving, snorkelling and island exploration to famous Great Barrier Reef sites just off the coast of Cairns such as Green Island, Fitzroy Island, Michaelmas Cay, Arlington Reef, Hastings Reef and more.

If you're planning to explore the Great Barrier Reef on your Cairns holiday, Cairns City boasts a host of popular tour operators - a few of these include Down Under Cruise and Dive, Seastar Cruises and Passions of Paradise, which can be found near Cairns Central and The Pier.
Relax Near the Above with Coral Towers Cairns
Discover Cairns for your next holiday! Our Cairns holiday apartments on Cairns Esplanade offer all the above to enjoy within minutes, comprising affordable 1 and 2 bedroom self-contained holiday suites with all the comforts of home, an onsite swimming pool and free daily WiFi access.

Our accommodation Cairns Esplanade apartments are modern and spacious, each featuring a comfortable open-plan lounge, full kitchen/laundry facilities, cable TV, air conditioning and a furnished private balcony facing the ocean. Perfect for solo travellers, couples and families, our range is ideal whether you have a holiday budget or not, with affordable rates to avail by simply booking directly with us.

Start planning your Cairns holiday in the heart of the region's best things to do - just visit Coral Towers Self Contained Accommodation Cairns.