Are You Ready for Cairns Festival?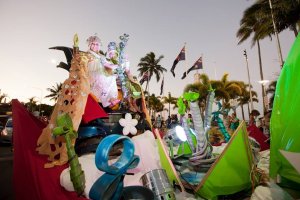 If you haven't experienced happiness with Cairns Festival, then make this year your time. Join thousands of supporters and holiday makers as they explore heaps of markets, watch live performances plus breathtaking fireworks from August 26th to September 4th, 2016.

Start your weekend right. Join the crowd in the Grand Parade and Fireworks at the Cairns Esplanade on a Saturday afternoon, August 27th. The Grand Paradde will start at 5:30 pm from the new Munro Martin Parklands to Fogarty Park. At 7:30 pm festival goers can expect a fantastic display of fireworks and live performances at the Festival Stage.

Fans of Melbourne Ska Orchestra have more reason to swing by the festival. This 28-piece band will be dropping tunes on the Cairns Esplanade Festival Stage on August 28th for a foot-stomping dose of funk filled ska. Meanwhile, if you're bringing your little ones along with you. They can surely enjoy some awesome time playtime at Muddy's Playground, with non-stop activities such as face painting and a kids' variety concert, which they'll surely enjoy.

On September 2nd, Munro Martin Parklands will welcome onstage Circa's Carnival of Animals. Imagine showstopping acrobatics and visual storytelling unlike any other. Allow these performers to transform into a circus of animals, in a circus escapade inspired by Camille Saint-Saëns. Later on, you can also chance upon the world famous Soweto Gospel Choir. This four time Grammy Award winning choir celebrates the power of African Gospel Music in a repertoire that combines traditional African songs, international classics, and South African freedom songs.

So if you've decided to head out to this part of Queensland, don't forget to choose Coral Towers and book our Cairns Apartment Accommodation. Get cosy with our beautifully curated rooms. Our amenities enable you to enjoy a refreshing dip in our sparkling resort-style swimming pool or relax with our heated spa after a long day outdoors. With our expert tour desk staff, you can conveniently get your way around the beautiful Cairns and make necessary travel arrangements through their assistance. Go ahead and visit http://coraltowers.etourism.net.au today. Booking has never been this fast and easy!
Image Source : Cairns Festival