Be on Top When Experiencing the Cairns Esplanade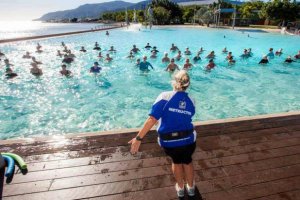 Established in the 1800s, Cairns Esplanade has been a favourite spot amongst locals and tourists of Cairns. It is a recreational area suited for people of all ages, gender, and interests that no one will feel left out once they reach this place.

During Saturdays from 8am to 5pm, you will find the new Esplanade markets where people's interests in crafts, arts, and fashion apparels are catered by the sellers coupled up by great musicians playing live to entertain the shoppers. Then there are various free fitness training every day such as Aqua Aerobics every Monday and Friday, Yoga every Tuesday, Sarge's Army Boot Camp every Wednesday, Pilates every Thursday, and Sahaja Yoga Meditation every Saturday. Of course, one's trip to Cairns Esplanade would not be complete without a visit to the Cairns Lagoon. With crystal clear waters, one would surely not be able to resist changing to their swimmers, and soaking in the water.

Since Cairns Esplanade is a wonderful site to be, why not book accommodation Cairns located in the area? With that, there's Coral Towers Holiday Apartments waiting just for you.

Located right inside Cairns Espalanade and just five minutes away from Cairns Lagoon, you'll feel lucky if your choose our Penthouse as your holiday option. The apartment is big, even for up to five guests. It has two bathrooms for convenience, a self contained kitchen for a comfortable cooking, laundry facilities, cable TV and DVD player in the living area to have something to watch when you're taking a rest with your companions, a private balcony, a queen sized and two single beds to tuck comfortably each of you during the night, and of course, the exclusive use of the deck area.

You and your companions can have a private party in the place even until the break of the dawn because the place is all yours. As long as you won't be making too much noise, you can even stay at the deck area until the sun rises where all of you can have fun watching and appreciating the views all around you.

Our resort also has other unit selections such as One Bedroom, Two Bedroom, and Deluxe Two Bedroom Apartments. Guest facilities are also available that you'll surely enjoy like swimming pool, heated spa, Wifi access, Tour Desk, and undercover parking.

Book you stay at our Cairns holiday apartments at http://coraltowers.etourism.net.au/.
Image Source : Aqua Aerobics