Cairns Indigenous Art Fair & Cairns Show 2019 | Coral Towers Cairns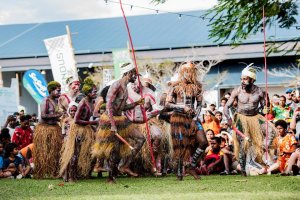 Enjoy CIAF 2019 and Cairns Show in July with Coral Towers
If there's something to get excited about this 2019, it's a holiday in Cairns this July, which will welcome the return of two huge Cairns events: Cairns Indigenous Art Fair and Cairns Show 2019!

For the chance to enjoy both - which are happening only a few days apart - look no further than Coral Towers Holiday Apartments in the Cairns CBD, which offers you, your partner or family a fantastic stay surrounded in the best that Cairns has to offer, including Cairns Central, Cairns Esplanade and popular Cairns venues such as the Cairns Performing Arts Centre, home to world-class shows and entertainment each month.

This July, the atmosphere in Cairns will be livelier than ever when Cairns Indigenous Art Fair and Cairns Show come to take over - two family-friendly events packed with live entertainment, markets and plenty to amuse for both young and old alike. Cairns Indigenous Art Fair and Cairns Show only come once a year, and your ticket to this year's events is with our central Cairns accommodation apartments at Coral Towers Cairns.

Book with Coral Towers today and look forward to a memorable Cairns getaway in a comfortable CBD apartment with a spacious living area, self-contained kitchen and sparkling ocean views from your own private balcony. We offer one and two bedroom options, making our affordable Cairns apartments a perfect choice if you're travelling on business, with a partner or alongside your whole family.

View our Cairns holiday apartments today to start getting ready for Cairns Indigenous Art Fair and Cairns Show 2019!
CIAF 2019 - Cairns Indigenous Art Fair
The annual Cairns Indigenous Art Fair is a huge celebration of heritage and culture that draws in tens of thousands of visitors each year. Held over four days, Cairns Indigenous Art Fair brings the streets of Cairns to life with a colourful program of free and ticketed events, and there isn't a better reason to be in Far North Queensland this July.

CIAF connects community and heritage like no other event in Australia, with a special focus on art, Indigenous culture and live performance. This year's program is overflowing with music and dance, art workshops, market stalls and more, all of which will take over Cairns citywide in between an unmissable Opening Night Celebration and Closing Ceremony.

The theme for Cairns Indigenous Art Fair 2019 is "My Yarn Now", which will inspire a whole host of public artwork from renowned Indigenous artists from all over the country. Immerse yourself in stunning Indigenous art at the Art Fair, then take the chance to purchase unique artwork at this year's Art Market, which will have over 40 high-quality stalls.

Throughout CIAF 2019 and at locations including Cairns Cruise Liner Terminal, Lake Streets and Corner Wharf - which will lay the grounds for the Main Stage - don't miss out on a thrilling entertainment program for all ages, which will involve back-to-back live music and dance from Aboriginal and Torres Strait Islander performers. The 2019 Opening Night Celebration and Closing Ceremony are also not to be missed for live music and dance, as well as explosive evening firework displays that will start and end 2019's event in spectacular fashion.

Witness the incredible atmosphere in Cairns when Cairns Indigenous Art Fair returns near our Cairns accommodation on July 11 to July 14.
Cairns Show 2019
Make sure to hang around after the 2019 Cairns Indigenous Art Fair as there will be a whole new experience ahead at the 2019 Cairns Show - the biggest regional celebration of agriculture, community and local food!

The Cairns Show is one of the longest-running annual events in Cairns, which rounds up local exhibitors, prized farm animals, fairground amusements and more, attracting over 70,000 visitors each year. This family-friendly event fills the famous Cairns Showgrounds with animal demonstrations, food stalls, kids' rides and a wide selection of exhibitors, providing lots to discover and enjoy over a thrilling three-day period.

Bring the whole family along to Cairns Show this July, which will return with a unique program that's all set to trump last year's successful event. See a number of equestrian events at the Cairns Post Main Arena, get up close with farm animals of all shapes and sizes, and enjoy nonstop amusements and good food at Hot Ten Sideshow Alley. This year will also amp up the excitement with new and returning competitions, including the Scarecrow Competition and ever-popular Wood Chop Competition!

The yearly Cairns Show is a vibrant celebration of everything wonderful about Cairns with something that all ages and backgrounds can enjoy. Experience what Cairns is all about with this year's Cairns Show at the Cairns Showgrounds - just a five-minute drive from Coral Towers Cairns - on July 17 to July 19.
Stay Near Both Events with Our CBD Cairns Apartments
Secure your stay near Cairns Indigenous Art Fair and the 2019 Cairns Show with our central CBD holiday suites at Coral Towers Holiday Apartments. Our convenient location will have you enjoying this July's biggest events from Cairns Esplanade - a picturesque waterfront destination just moments away from the atmospheric Cairns CBD.

Whether you're planning a romantic Cairns getaway or an exciting family holiday over the school holiday, our 1 and 2 bedroom apartments Cairns accommodation promises your comfort with full kitchen and laundry facilities, air-conditioning, Cable TV and WiFi, and a stunning private balcony that looks over Cairns Esplanade and the sparkling waterfront.

By choosing our One or Two Bedroom Apartment, or our recently refurbished Deluxe Two Bedroom Apartment, you'll also get to enjoy our inviting outdoor swimming pool and heated spa - perfect for your relaxation at any time of day.
Be Ready for July - Book with Coral Towers Today
With CIAF 2019 and the Cairns Show just around the corner, there isn't a better time to book your trip to Cairns. Our affordable One and Two Bedroom Apartments guarantee to surround you in all the festivity when it lands in July, so make sure to book your stay with Coral Towers in the Cairns CBD.

Booking directly with us gives you best price guaranteed - all you have to do is visit Coral Towers Cairns.