Chinese New Year Hot Air Balloon Cairns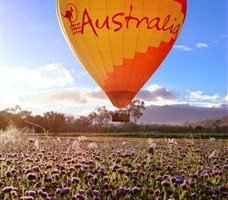 Over many years, a tradition has evolved, for visitors during Chinese New Year to celebrate at dawn, on a hot air balloon in Queensland, to bring luck for the upcoming year. In 2015 a festival of balloons will take off daily from February 6 to February 23, 2015.
The first light of dawn brings some amazing colours on the skyline, red, yellow, orange, with the flotilla of up to ten balloons floating, west of the Great Barrier Reef, with Hot Air Balloon Cairns. The event will commence just before sunrise with the impressive balloon inflation display, look out for the many different hot air balloon designs, the famous koala balloon, the Kangaroo, World globe and Australia balloons will all be flying. Tickets to the event are all inclusive, with door to door transfers to the fiesta from all Cairns accommodation and free transfers to Green Island and Skyrail tours after.
Enjoy Chinese New Year Hot Air Balloon Cairns from 1 - 28 February 2015 at 1 Spence Street, Cairns QLD 4870. Tickets cost only $235.00 for adults.
If you are planning to enjoy the Chinese New Year Hot Air Balloon in Cairns, you may want to book our Cairns Holiday Accommodation. Our accommodation is just five minutes away.
We offer one bedroom apartments, two bedroom apartments, deluxe two bedroom apartments and a penthouse apartment. We have complete amenities such as a full kitchen, laundry facilities, free cable TV, DVD player, a private balcony, and ensuite bathroom. Ideal for couples, solo travellers, families and friends, book your stay at our Cairns Holiday Accommodation.
Aside from our well-furnished apartments, we also have guest facilities for your comfort and relaxation. Our guest facilities include a swimming pool, heated spa, WiFi access, and a tour desk.
Enjoy the Chinese New Year by treating yourself and your family to a fantastic balloon ride. Book your stay at our accommodation.
For booking information, please visit http://coraltowers.etourism.net.au
Image Source : Hot Air Balloon Gold Coast Fiesta