Defy Gravity with Flyboard Cairns!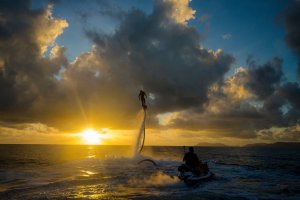 Who is ready for a long, action-packed weekend in Cairns? If you're bound to visit one of the top tourist destinations in the breathtaking Queensland, then you are definitely in for a year of everything new and different, and extreme!

Whether you are engaging in scenic walks to Cairns' natural wonders, trying out new flavours in some of its premier restaurants, or just about ready for anything extreme, Cairns seems to have everything covered.

While you are at it, why don't you try a new sport like flyboarding? Flyboarding is a unique sports adventure that combines wakeboarding, water skiing and snowboarding! Holiday-goers are swearing by this momentous experience. Well, you too can have a thrilling experience of a lifetime. Get ready to fly like a bird with Flyboard Cairns!

Flyboard Cairns invites you to try this unique sport. Their instructors are confident and experienced enough to have you flying within the first five to ten minutes into the session! What's even better is flyboarding lets you marvel in the beauty of Cairns' rainforests and mountains, and the beautiful, breathtaking beaches.

For more information, you can visit http://flyboardcairns.com.au.

Better include flyboarding in your Cairns weekend itinerary. Plan your stay at Coral Towers! Be it with friends and family, you can feel right at home in any of our Cairns Holiday Accommodation.

There is simply so much you can do in Cairns. Let Coral Towers handle your accommodation. Our sprawling establishment houses a wide array of superb guest amenities that are perfect for your fun-loving lifestyle. You can enjoy a refreshing dip in our sparkling resort-style swimming pool or relax with our heated spa after a long day basking in the beauty of Cairns' outdoors. You can also conveniently get in touch with your loved ones online with our WiFi access for guests.

Also feel free to consult our friendly tour desk staff for excellent travel tips for you and your friends. You can conveniently get your way around the beautiful Cairns and make travel arrangments and tour reservations through their help.

Get ready to defy gravity! Say yes to flyboarding today. You may book now by visiting http://coraltowers.etourism.net.au/. It's fast and easy!
Image Source : Flyboard Cairns