Don't Miss Reef Feast 2019 Palm Cove | Coral Towers Cairns Apartments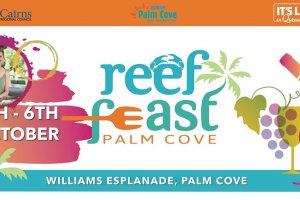 Make Sure You're in Cairns for Reef Feast 2019
Cairns Reef Feast is a three-day cultural food and entertainment festival coming in October. It's the perfect excuse to be in Cairns if you're looking to get away this spring, and you can be ready for the full weekend-long event with our Cairns accommodation apartments!

Situated on the scenic Cairns Esplanade, our affordable Cairns holiday suites are your ticket to an unforgettable escape this spring, where our location offers all the wonder and beauty of Cairns from a sought-after central destination with lots for tourists and holidaymakers to see, do and explore.

With our accommodation at Coral Towers, Cairns Far North Queensland waits in the palm of your hand, putting exciting attractions such as Cairns Esplanade, Cairns Botanic Gardens and the Great Barrier Reef at arm's reach, including famous Cairns CBD shopping and dining areas and all the best local events, festivals and shows.

This spring, one event that's sure to be a blast is Reef Feast 2019. Make sure you're ready for its arrival with our affordable self contained accommodation Cairns apartments!
Reef Feast 2019 Palm Cove
After being postponed last year, Reef Feast Palm Cove is set to return bigger than ever before with a highly anticipated program to once again celebrate regional cuisine, community and culture in one of Tropical North Queensland's most spectacular locations.

Reef Feast Cairns is all about showcasing and celebrating the tropical Cairns environment and way of life, and for newcomers, it's a premier community event that offers a fantastic insight into the local culture with lots to do, taste and be entertained by.

Spread over three days with a different festive event to experience each day, Reef Feast 2019 is ready to bring Palm Cove to life over one long weekend in the sun featuring mouth-watering local cuisine, cultural live entertainment and an atmosphere for all ages and backgrounds to enjoy.

Reef Feast Longest Lunch will kick off the excitement on the first day, with an assortment of lunch courses and treats to tuck into on the beachfront, alongside thirst-quenching beverages and special guest Justine Schofield from Everyday Gourmet.

Following Longest Lunch, Taste of Palm Cove will continue the excitement on Williams Esplanade, offering an evening of incredible local restaurant food, live music and fireworks! 2019 Reef Feast will then conclude on the last day of the weekend with Reef Feast Market Day - a colourful free-entry marketplace near Palm Cove Beach that will provide lots to browse and take home.
Soak Up the Festivity Near Our Cheap Cairns Accommodation
Reef Feast Palm Cove 2019 is the must-attend festive event this spring, which you can enjoy in its entirety on the weekend of October 4, October 5 and October 6 near our affordable Cairns apartments!

Here at Coral Towers, we're just a 30-minute drive from Palm Cove Cairns with a picturesque central location on Cairns Esplanade. With a full range of one, two and three-bedroom apartments surrounded by the best things to do in Cairns, our resort is ideal for any kind of stay, no matter whether you're planning a romantic break, a family holiday or an eventful group getaway.

Each of our holiday apartments is fully self-contained, complete with spacious living areas and rooms, modern furnishings and private balconies that face the ocean. Feel at home in Cairns with full kitchen and laundry facilities plus Cable TV, along with luxury Queen beds and guest WiFi access for keeping in touch.

With all of our one, two and three-bedroom Cairns apartments, book directly with us to save on our exclusive direct rates.
Our Exciting Location Near Cairns Esplanade
Cairns Esplanade is a 2.5-kilometre tourist hotspot on the Cairns oceanfront, and it's yours to explore during your stay with us at Coral Towers self contained apartments Cairns.

This popular oceanside boardwalk boasts breathtaking views of the ocean, lined with tropical palm trees and a whole host of local souvenir stores, boutique market shops and cafés that are sure to keep you busy within minutes from our location.

This spring, dine with a view of the ocean on Cairns Esplanade, pick up unique fashion items and gifts and make sure to stroll the full length of the boardwalk, where, at its southernmost end, you'll get to discover stunning Cairns Esplanade Lagoon.

A famous swimming attraction that shouldn't go ignored on any Cairns holiday, Cairns Esplanade Lagoon offers the chance to unwind and swim next to the ocean with scenic mountainous views and public barbecue facilities - just a stone's throw from Orchid Plaza Shopping Centre and The Pier Cairns.
Enjoy These Resort Facilities on Your Cairns Holiday
As you tuck in and soak up the festive atmosphere of Reef Feast 2019 Cairns this October, don't forget to take advantage of the superb resort facilities that we have onsite at Coral Towers Cairns Esplanade.

When the mood calls, take a dip in our inviting resort-style outdoor swimming pool - perfect for splashing about with the kids or kickstarting your day with a few morning laps. Lined with relaxing poolside sun loungers, you can also spend vacant afternoons sunbathing with picturesque views towards the Pacific Ocean.

At Coral Towers Cairns, we also have a steamy heated spa, providing the best way to unwind at the end of a busy day. To top it off, make use of onsite WiFi access, free undercover car parking and a convenient guest tour desk, offering local recommendations plus hassle-free holiday bookings to live shows and the best Great Barrier Reef tours in Cairns.
Save Today with Coral Apartments Cairns
Plan a Cairns holiday this spring with Coral Towers Holiday Apartments. For an unforgettable experience on your visit, make sure to arrive in October for Palm Cove Reef Feast 2019, which will bring mouthwatering regional cuisine and a festive entertainment program to enjoy just a short drive from our prime location on Cairns Esplanade.

Our one, two and three-bedroom self contained apartments Cairns will save you money if you book direct! Find more information today - just visit Coral Towers Cairns Apartments.