Embark on a Tropical North Adventure in Cairns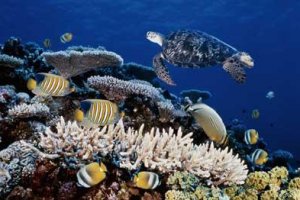 Bound for Cairns for a long, jam-packed weekend? Well, you've made a great choice! Put on your hiking shoes and gear up for an outdoor adventure Queensland style. Explore Queensland's tropical north, where you get to be one with mother nature.

Be a drive away from outback journeys to famous rainforests or mountains. You can also explore the ocean's vast shores, dive into its clear waters, indulge in its scenic wonders. Here are some things you can put in your itinerary:

1. Explore the Great Barrier Reef
Go as near as you can to the world's largest reef system - the Great Barrier Reef. You can either sign up for a scuba or diving session. Imagine Finding Nemo and you might find yourself snorkeling with sea turtles!

2. Go Fishing
Do you feel like channeling the inner angler in you? Go experience fishing at Cairn's famous fishing spots like Kings Point and Lake Tinaroo.

3. Visit Fitzroy Island
Ride a speed ferry for an awesome day trip to Fitzroy Island, which is home to coral beaches, wildlife in mangroves, and pristine rainforest that are surely picture perfect when snapped.

4. Kuranda Train and Skyrail
Be on your way to the historic Kuranda Scenic Railway to experience an amazing two-hour adventure through the mountains of Barron Gorge National Park, some majestic waterfalls and bridges and tunnels. The Skyrail also offers a panoramic view of the rainforest.

5. Set foot on the Daintree Rainforest
Known as the oldest lowland rainforest that thrived for over a hundred million years, you might chance upon rainforest dragons, vibrant butterflies, tree-living kangaroos, and other amazing creatures inhabiting the area.

Meanwhile, you'll find access to great dining and nightlife locations rather easy as well. Exploring the streets of Cairns for awesome food often leaves your bellies satisfied. Enjoy a glass of your favorite alcoholic drink with sophisticated bars nearby.

There's so much to do in Cairns. So if you've decided to head out to this part of Queensland, don't forget to book our Cairns Holiday Apartments. Get cosy with our beautifully curated rooms that are designed to match your upbeat lifestyle. You can enjoy a refreshing dip in our sparkling resort-style swimming pool or relax with our heated spa after a long day outdoors. Also conveniently get in touch with your loved ones online with our WiFi access for guests.

A spontaneous trip to Cairns won't be a problem either. With our expert tour desk staff, you can conveniently get your way around the beautiful Cairns and make travel arrangments through their assistance.

Visit http://coraltowers.etourism.net.au/ today. It's fast and easy!
Image Source : Great Barrier Reef