Enjoy Coral Tower's Numerous Facilities
Posted in
Accommodation
@
Feb 24th 2015 9:09am
- By Administrator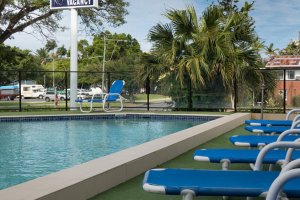 If you're planning to spend your holiday on the beautiful city of Cairns, we invite you to stay with us at Coral Towers. We seek to make you stay relaxing, comfortable and enjoyable. That is why Coral Towers features numerous facilities guaranteed to make your stay with us one to remember.
We have a swimming pool where you can take a refreshing swim whenever you like. Start your day right by swimming a few invigorating laps in our pool. We also have a spa where you can go for a nice soak after an exciting day in Cairns. There's nothing like a good soak in our heated spa to rejuvenate you and prepare you for another day of adventure tomorrow. Step in, relax, and let the heat do its magic while you take in the perfect view of Trinity Bay.
If you're unsure of the places to visit in Cairns, you don't need to worry. Just approach our tour desk and we'll gladly assist you. We know all the best attractions and top destinations around the beautiful city of Cairns. Just sit back, relax, ad let us do the planning for you. We can help you arrange your tour bookings and ticket reservations.
We have a WiFi access across our whole property to make sure that you stay connected with your friends and family. We also have an underground carpark to provide secure parking for our guests.
Our Cairns Holiday Accommodation offers 1 bedroom and 2 bedroom apartments that are fully furnished and elegantly designed. All the apartments contain everything you need for a relaxing break. They have fully equipped kitchen facilities, Cable TV, DVD player, and ensuite bathroom. They also have a private balcony where you can get some sunshine and air.
Stay with us at Coral Towers.
Book now at http://coraltowers.etourism.net.au