Enjoy Easy Access to the Great Barrier Reef when you Stay with Us
Posted in
Accommodation
@
Jun 25th 2015 10:28am
- By Administrator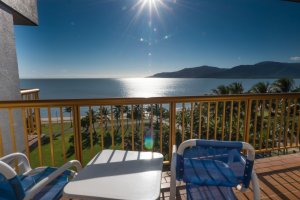 Enjoy easy access to the Great Barrier Reef when you stay with us at Coral Towers. The Great Barrier Reef is one of Australia's most remarkable natural gifts. Blessed with the breathtaking beauty of the world's largest coral reef, the reef contains over 3000 individual reef systems and an abundance of marine life. It is comprised of coral cays and literally hundreds of picturesque tropical islands with some of the worlds most beautiful sun-soaked, golden beaches. The Great Barrier Reef has become one of the worlds most sought after tourist destinations because of its natural beauty. A visitor to the Great Barrier Reef can enjoy many experiences including snorkelling, scuba diving, aircraft or helicopter tours, bare boats (self-sail), glass-bottomed boat viewing, semi-submersibles and educational trips, cruise ship tours, whale watching and swimming with dolphins. The Great Barrier Reef is one of the seven wonders of the natural world, and pulling away from it, and viewing it from a greater distance, you can understand why. It is larger than the Great Wall of China and the only living thing on earth visible from space.
Our tour desk can easily help you secure tickets and book trip to the Great Barrier Reef. Coral Towers offers you not only a cosy holiday residence but also convenient access to the marvellous tourist destinations of the region. Our well-designed holiday apartments are equipped with modern amenities. They are fully furnished and designed with your comfort and relaxation in mind. Our apartments are spacious and comfortable. They are guaranteed to give you a relaxing, self-contained break. We also provide our guests top-notch facilities to make their holiday more relaxing and enjoyable.
Enjoy the beauty of the Great Barrier Reef. Come stay with us at Coral Towers.
Book our Cairns Apartment Accommodation now at http://coraltowers.etourism.net.au