Enjoy International Production Diamonds After Dark with Our Cairns Accommodation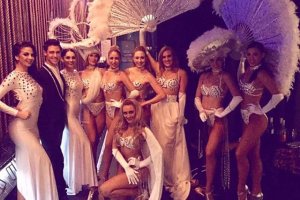 Dazzling, awe-inspiring, and bold, Diamonds After Dark is the sensational production by Mission Entertainment Co that's finally coming to Cairns this November. For those with a taste for glitz and glamour, Diamonds After Dark delivers it and much more, featuring an all-star cast comprising of international music star Nicole Skye, Broadway's Troy Woodcroft, and a whole host of dancers, singers, circus performers, and daring acrobats. Energetic choreography, staggering vocals, and mind-blowing feats, this production has it all, and if you've ever wondered what New York City is like after dark, Diamonds After Dark takes you there in an instant to a whole new world of mesmerising showgirls, flashing lights, and sparkling diamonds.
Diamonds After Dark has been performed in Paris, London, Macau, and more, and has wowed audiences with each and every performance. Now's your time to see it in Australia with an unmissable run taking place in Cairns at the Cairns Dinner Theatre on November 8, 9, and 10. There'll be four performances to see over its three-day run, so make sure not to miss it.
Put yourself near the Cairns Dinner Theatre this November with our broad range of Cairns accommodation at Coral Towers Holiday Apartments. If you're looking to discover Cairns this spring then we'll provide your ideal stay, where live entertainment, breathtaking beaches, and the Great Barrier Reef are always just a moment away. Our accommodation offers couples and families a simple choice of one and two bedroom holiday apartments, featuring self-contained kitchens, spacious living areas, and comfortable Queen bedrooms. We also have a stunning outdoor swimming pool to enjoy onsite.
Don't miss Diamonds After Dark this November. Book directly with Coral Towers Holiday Apartments today by visiting https://coraltowers.etourism.net.au/