Events to Enjoy in April Near Our Cairns Accommodation Apartments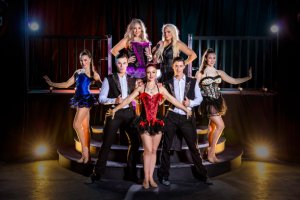 Make sure to book with Coral Towers Cairns this April, as just moments away from our self-contained Cairns apartments, there'll be an unmissable lineup of shows at the Cairns Performing Arts Centre and the Cairns Dinner Theatre, plus the unmissable Cairns Marathon taking place at the end of the month!

Coral Towers offers affordable Cairns accommodation next to Cairns Esplanade, putting tourists and holidaymakers within short walking distance from the best shopping centres, live venues and parks that Cairns has to offer. Our CBD location also provides easy access to the beach, plus leading Great Barrier Reef tours for those looking to take in the beauty of Far North Queensland.

By booking with us in April, here are just a few of the exciting shows and events you can enjoy within minutes from our self contained accommodation Cairns.
Charley Pride - 50 Years of Pride
Country music legend Charley Pride returns to Australia with his brand new tour 50 Years of Pride, and there'll be one unmissable stop in Cairns.

Still a highly celebrated name in country music 50 years on, Charley Pride continues to perform his timeless country songs to audiences all over the globe. The '60s and '70s marked the height of Charley Pride's long and fruitful career, which saw the release of country music classics such as "The Snakes Crawl at Night" and "Just Between You and Me", as well as charted Billboard Hot 100 singles "Is Anybody Goin' to San Antone", "All I Have to Offer You (Is Me)", "I Can't Believe You Stopped Loving Me', "Wonder if I Could Live There Anymore" and "Kiss an Angel Good Mornin'".

Charley Pride has nearly 50 studio albums to his name and over 70 singles, many of which peaked at the number-one spot in the US and Canadian Country Singles charts. He is also the winner of numerous awards, including the 1994 ACM Pioneer Award, the 1973 and 1976 AMA Awards for Favorite Country Male Artist, and several Grammy Awards for Best Sacred Performance, Best Gospel Performance and Best Country Vocal Performance.

In 2017, Charley Pride earned the Grammy Lifetime Achievement Award for his outstanding contribution to music.

This 2019, Charley Pride takes on Australia and New Zealand with a highly anticipated tour throughout April. Don't miss him live and on stage at the Cairns Performing Arts Centre on April 2.
DIVAS
Every day for 11 days at the Cairns Dinner Theatre this April, DIVAS will be celebrating the most iconic divas in music - from the 50s all through to today!

Starring Hayley Jensen from Australian Idol and The Voice Australia, Sarah C from Channel Seven's 2018 reality music competition All Together Now, musical-theatre star Samantha Dodemaide, plus a cast of world-class Australian singers and dancers, DIVAS is nothing but explosive as it pays tribute to all of the most successful divas over the decades, from the great Aretha Franklin all the way to Beyoncé.

For anyone with a love for on-stage sassiness, striking costumes and soaring vocals, DIVAS is a must-see musical production that incorporates all of the biggest hits and singles from music's most influential female performers. If you can't get enough of Aretha Franklin, Diana Ross, Tina Turner, Whitney Houston, Mariah Carey, Christina Aguilera, Beyoncé and the rest, this is the show to see this 2019!

DIVAS will be touring nationwide with an exclusive 11-day run of matinee and evening performances at the Cairns Dinner Theatre from April 3 to April 13.
The ABBA Show
Calling all ABBA fans to Cairns, as sensational international ABBA tribute, The ABBA Show, will be performing one night at the Cairns Performing Arts Centre!

A full-blown theatrical music experience with authentic costumes, world-class musicians and, of course, all the biggest hits of ABBA, The ABBA Show is a must-see for those that can never get enough "Saturday Night Fever".

Having performed over 5,000 international shows, The ABBA Show - starring incredible ABBA impersonators ABBAsolutely fABBAulous - is arguably one of the most successful ABBA tribute shows on the planet. They've left nothing but satisfied ABBA fans in their path, as they perform all the well-known hits such as "Knowing Me Knowing You", "Dancing Queen", "Mamma Mia", "Money, Money Money", "Waterloo" and the rest with raw passion, experience and world-class production that doesn't get any better.

This fully-fledged ABBA experience is a time machine back to the heyday of iconic British pop group ABBA, and you can be sure you'll be dancing along right up until the encore!

If you're a diehard fan of ABBA, make sure not to miss The ABBA Show in Cairns at the Cairns Performing Arts Centre on April 17.
Cairns Marathon
Beat your personal best or take on a new and exciting challenge this autumn with the Cairns Marathon!

Taking place in the Cairns CBD, this upcoming marathon event, which will start at finish at Fogarty Park near Cairns Esplanade, is the ideal opportunity to get active and overcome a new challenge next to friends and family. There will be categories for all ages, with events including the Channel 7 Marathon, the McDonald's Half Marathon, 10km, 5km, and the 2km RMHCNA Family Dash. There will be awards for those that finish first, as well as medals for everyone that crosses the finish line!

The Cairns CBD and the warm autumn weather will provide the perfect conditions for the event - invite friends and family and join in on April 28. H2: Don't Miss Out - Book with Coral Towers Cairns Today! Don't miss out on these upcoming Cairns events by booking today with Coral Towers Holiday Apartments!

Situated in the Cairns CBD, our choice of couple and family-friendly Cairns accommodation apartments offers everything exciting about Cairns at the tip of your fingers.

Book directly with us for the best rates - just click on Coral Towers Cairns.