Experience a Fantastic Tropical Mardi Gras Cairns!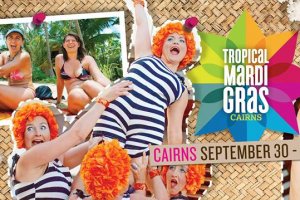 Cairns Tropical Pride presents the highly anticipated annual Tropical Mardi Gras Cairns. Show your love in paradise from September 30th (9 AM) to October 9th, 2016 (5 PM) in various locations surrounding Tropical North Queensland.

Join Cairns Tropical Pride for ten awesome days of partying, and travelling, and shopping! From dance parties to dive trips, from fine dining and fashion shows to beaches and rainforests, culminating in our Fair Day at the superb Tanks Arts Centre, Tropical Mardi Gras will surely come up with something for everyone in the LGBT+ community.

Party all weekend! From September 30th to October 3rd, you and your buddies can have all the fun you want! Be a heartbeat away from the love boat launch party, splash pool party, out party, comedy night, island idyll, beach party, and more.

Explore FNQ from October 4th through 8th as you set your sights on Cairns' thriving cultural scene. Say hello to its botanic bardens, fashion parades, LGBT+ art exhibitions, not to mention its breathtaking rainforest and miles of untouched beaches. Experience longer nights with activities, such as the proud women's dance, luxe drag show, rainbow rave, and the launch party for Tropical Mardi Gras' visual arts exhibition!

Conclude your festival experience with a leisurely trip to loads of market stalls, entertainment and music, plus the Bitch n Butch Dog Show. Catch the Fair Day on October 9th! Visit https://tropicalmardigras.org for more details.

Now if you are planning to stay throughout the entire week, you might as well choose a comfortable second home within Cairns. Trust Coral Towers for your choice of Cairns Apartment Accommodation. Get cosy with our beautifully curated rooms. Our amenities enable you to enjoy a refreshing dip in our sparkling resort-style swimming pool or relax with our heated spa after a long day outdoors. With our expert tour desk staff, you can conveniently get your way around the beautiful Cairns and make necessary travel arrangements through their assistance.

Partner your Cairns holiday with a relaxed stay at Coral Towers, where you can leave the worrying to us. Reserve your rooms via http://coraltowers.etourism.net.au today. Booking has never been this fast and easy!
Image Source : Tropical Mardi Gras, Cairns 2016