Experience the Markets of Cairns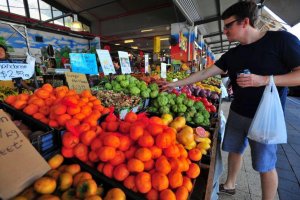 A visit to a place is never complete without going to one or several of its markets. So if you're planning a trip to Cairns, you can take note of the following marketplaces that you may visit and buy stuff from.

• Cairns Night Markets (Abbott Street)
Wait until the night comes for Cairns Night Markets. With over 70 shops and dining places, the market is the most ideal place where you can unleash the shopaholic in you. Look for everything that you desire, haggle the price, then get to energise yourself with any food of your choice before starting on another escapade around the market.

• Rusty's Markets (Grafton City)
As a market with diverse selections of local and seasonal harvested goods in Cairns, people crowd the place every Friday, Saturday, and Sunday. Have the privilege of buying fruits and vegetables from the farmers themselves and get to thank them for their hardwork. You can also find home-grown products here straight from the Aborigines, as well as unknown fruits and vegetables from the sellers of Torres Strait Island.

• Yungaburra Cottage Markets (Yungaburra)
Opens every fourth Saturday of the month, this market houses various suppliers, farmers, craftsmen, artists, and musicians, that all present something new to the eyes of their buyers. And though situated in the quiet, rural mountain village, Yungaburra turns into a lively market once sellers from Atherton Tablelands finally settle to this place to retail crops, arts, crafts, pieces of furniture, and more.

• Port Douglas Markets (Anzac Park, Port Douglas)
Operating every Sunday from 8am to 1:30pm, the place turns into a bustling area with hundreds of people hurriedly visiting and buying from one or several of the 100 stalls in the market. The market is also considered as a local institution for being around for around and staying popular for 20 years.

Shopping from market to market can be a fun but exhausting activity. With that, don't you wish you have an apartment Cairns that can ease your tired body? Then Coral Towers Holiday Apartments can give you just that.

Being nestled within the palm trees makes our Cairns holiday accommodation the peaceful atmosphere. You can even have the relaxation you deserve in one of our cosy apartment units and swimming pool.

Book to Coral Towers Holiday Apartments by visiting http://coraltowers.etourism.net.au/.
Image Source : Rusty's Markets