Explore Oz's Rich Indigenous Culture at Tjapukai - Part Two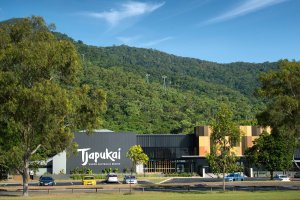 Take a long break from your busy urban life. Put away your phones and laptops and escape to a life of simplicity. It's time to revisit Australia's ancient culture that dates back over 40,000 years. Learn about Tjapukai and its rich cultural heritage, and you're sure to take home only great memories with your family and friends. Pack your camping bags and don't forget to bring your outdoor camera for an awesome Throwback Thursday or Flashback Friday journey to Tjapukai's Cultural Centre, where you can catch the wonderful Creation Story of the Djabugay people in the Bulurru Story Waters Theatre plus photographic exhibitions and historic films about Oz's Aboriginal and Torres Strait Islander people.

As promised, we are sharing with you the second of the two-part feature on Tjapukai. Below are the afternoon and evening itineraries you might like to consider:

The afternoon itinerary includes:
1:30 pm - Boomerang and Spear Throwing
2:30 pm –Tjapukai Dance Performance
3:00 pm – Bush Foods and Medicines Presentation
3:15 pm – Didgeridoo Show
3:30 pm – Hunting and Weapons Demonstration
4:00 pm – Creation Story
4:15 pm – History and Heroes Talk
4:30 pm – Art of My People
4:45 pm – Gift Shop and depart

The evening itinerary includes:
7:00 pm – Arrive, browse through art gallery
7:10 pm – Native Spiced Canapes and Complimentary Bubbles and Juice
7:30 pm – Face Painting, Cultural Welcome with Didgeridoo Journey
7:45 pm – Tjapukai Aboriginal Dance Performance
8:00 pm – Lakeside Firemaking Ceremony with Spectacular Fire Ball
8:15 pm – Delicious Buffet Dinner
9:00 pm – Meet the Performers by the Fireside
9:30 pm – Photo Opportunity and Farewell

Please note that the cafe is open throughout the day. Some attractions, on the other hand, might incur additional costs. For more details about the tours, please visit www.tjapukai.com.au.

Meanwhile, feel right at home Coral Towers. Our elegantly designed Cairns Holiday Apartments are complimented by superb guest facilities, such as: our sparkling swimming pool and heated spa, our 24/7 WiFi access, our efficient tour desk staff, and a secure undercover parking.

Book now by visiting http://coraltowers.etourism.net.au/.
Image Source : Tjapukai Aboriginal Cultural Park