Immerse Yourself in an Indigenous Cultural Experience!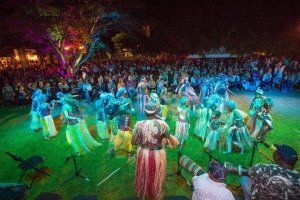 Show your support for the various indigenous communities of Queensland by being part of the upcoming Cairns Indigenous Art Fair 2016, which will be observed from 14th to 17 of July 2016.

This yearly held art fair seeks to promote awareness on the vibrant art and cultural landscape of Queensland Aboriginal and Torres Strait Islander peoples. For three days following its opening night on the 14th of July, allow Tropical Cairns to be your ticket to an impressive showcase of visual arts, music, performances, and cultural information, in a diverse combination of free and ticketed events.

The event will feature a series of Art Fair and Curated exhibitions, Indigenous Fashion performances, a sprawling Art Market, Premier Film screenings, Aboriginal and Torres Strait Islander dance numbers, music concerts, and so much more. Don't forget to share this celebrated event among your family and friends.

Local schools are also invited to participate in CIAF through the Education Queensland R.E.A.C.H (Regional Excellence in Arts and Culture Hubs) program, which assists school age children learn more about Queensland Aboriginal and Torres Strait Islander artists and cultural practice.

Through the dedication of the CIAF team, this relatively young art fair has opened doors for the finest cultural exchange and a fair point of sale for the indigenous artists of Queensland. Last year alone, CIAF welcomed 50,000 guests and generated $350,000 through the sale of art and ticketed events. Read more about the CIAF by visiting http://ciaf.com.au.

Meanwhile, count on Coral Towers and book our Holiday Apartments in Cairns. Get cosy with our beautifully curated rooms that are perfect for your lifestyle. You can enjoy a refreshing dip in our sparkling resort-style swimming pool or relax with our heated spa after a long day outdoors. Also conveniently get in touch with your loved ones online with our WiFi access. In addition, our expert tour desk staff can help you get your way around the beautiful Cairns and make necessary travel arrangements through their assistance.

Go ahead and visit http://coraltowers.etourism.net.au today. Booking has never been this fast and easy!
Image Source : Cairns Indigenous Art Fair