Learn Forex Trading with Learn to Trade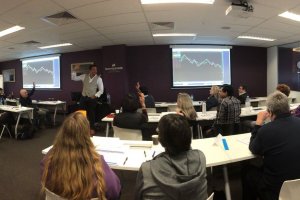 There are no easy steps to success. All would require a thousand folds of time, effort, and perseverance for one to get to the top. So if you want to get an introduction on Forex trading, better take the time and effort, and head on to Cairns for the knowledge of financial freedom.
Happening on October 19, 2015, 12 noon to 2pm, in a hotel in Cairns, Learn to Trade will teach its attendees how to gain a second and passive income without leaving the confines of their homes. Using the tools of professional traders, the company will impart a beginner's workshop guaranteed to provide everyone the four dominant and excellent strategies in trading as developed by Learn to Trade founder Greg Secker, risk management techniques, and how to juggle from the highs and lows of the trade market.

Established in 2003, Learn to Trade has been changing people's lives through empowering them on how to have financial freedom. With a roster of successful mentors and leaders in the Forex market, they train their students that a smart and a regular investment to the said market is the answer to a secured and stable future. Their talks are packed with trading knowledge, current market information, and life-based examples, turning Learn to Trade into Europe's top trader coaching company.

Interested in this powerful seminar? Mark your calendar now and start counting your days. Tickets are available only on the day of the event so you better come early go get your seat.

To make sure you get to the event ahead of others, you must have a Cairns apartment accommodation. With that, Coral Towers Holiday Apartments is open for you.

Nestled among the palm trees, our resort is the most peaceful place you can be in Cairns. We have a One Bedroom, Two Bedroom, and Deluxe Two Apartments available to all our valued customers. Each apartment type is large with air conditioning unit, self contained kitchen, laundry equipment, bathroom, queen sized bed and single beds, cable TV, DVD player, and a private balcony so you can enjoy and appreciate the view of Cairns.

We also have a Penthouse with two bathrooms, self contained kitchen, laundry machine, cable TV, DVD player, a private balcony, and an exclusive deck area where you can see and marvel at the beauty of the ocean.

Book to our holiday apartments in Cairns now at http://coraltowers.etourism.net.au/.
Image Source : Learn to Trade Australia