Party All Weekend with Palm Cove Reef Fest!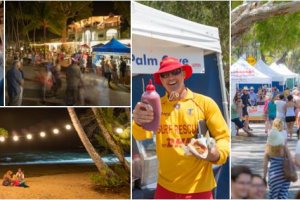 Are you ready to have a fun first October weekend with your friends? Don't miss out on two absolutely fantastic events happening on October 7th and 8th. Palm Cove Reef Fest presents a back-to-back night life to remember.

On Friday, catch a free event at Palm Cove Jetty from five to nine in the evening. The Blues Brothers Band are coming to Palm Cove Reef Fest! Fans of the band will not only sing along to their favourite tunes under the stars, they will also enjoy a bucket of fresh prawns, oysters, and antipasti platters! Also, a licenced popup bar of wine, beer, and spirits will give your evening an added punch.

Meanwhile, chill out with your friends on Saturday at Williams Esplanade, Palm Cove for the much-awaited Taste of Palm Cove Under the Stars! Taste your way through fabulous food-tasting stalls from our award-winning Palm Cove Restaurants, various local produce stalls, and be amazed by awesome shows like the much-anticipated Circus Fire Show and Circus Shows by Dreamstate Circus, and Sunset Soiree with A Musical Odyssey. Be at any of the six featured stages for live musical performances, featuring acts like Los Caracoles, The Montgomery Brothers, Tommy Seepoy's Latin Excursion, Melanfunk Collective, MOJO, Jusfakicks, Shirley Lynn, Brealyn Sheehan, SAVIDAS, The Kroovs, Victoria's Secrets, and Legends Of Perhaps and The Choons! Sounds like an action-packed Saturday you wouldn't want to miss! You may learn more at http://reeffeast.com.au/whats-on.

Start telling your friends all about these fantastic events and get your Cairns planning started. When it comes to your Cairns Accommodation, look no further than Coral Towers. Get cosy with our affordable yet beautifully curated rooms. Our premium amenities enable you to enjoy a refreshing dip in our sparkling swimming pool or relax with our heated spa after a long day outdoors. With our expert tour desk staff, you can conveniently get your way around the beautiful Cairns and make necessary travel arrangements.

Let your next greatest Cairns adventure begin with just a click of a finger. Go ahead and visit http://coraltowers.etourism.net.au today. Booking has never been this fast and easy!
Image Source : Reef Feast