Plan a 2019 Cairns Summer Holiday with Our Deluxe Cairns Apartments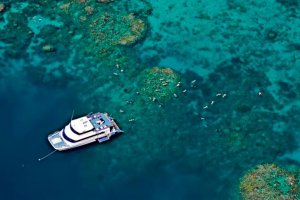 Summer is on the horizon which means now is the time to start planning your summer holiday. For those seeking the perfect destination, look no further than Cairns in Tropical North Queensland, where you can take advantage of the soaring temperatures as you relax on the beach, venture out into the spectacular Great Barrier Reef, and lots more. With Coral Towers Cairns, our convenient choice of one and two bedroom holiday accommodation puts you at the heart of the Cairns CBD, where everything incredible about Cairns is in the palm of your hand.
Our Cairns Accommodation Is Situated Right on Cairns Esplanade
Coral Towers is located on Cairns Esplanade, which puts you beside the sparkling waterfront and just moments away from bustling shopping centres, tempting eateries, and world-class live entertainment. With our location, you can always guarantee there's something to see and do within walking distance, making your holiday exciting each and every day.

Cairns Esplanade stretches far along the waterfront, and your Cairns holiday isn't complete without exploring everything it has to offer. See it on foot or on a bike - whichever you choose, you'll find lots to stop by along the way from inviting alfresco cafes to intriguing souvenir shops. Make sure to go all the way to the headland, as there you'll discover the scenic Cairns Esplanade Lagoon: a stunning swimming spot next to the ocean with its own playground and BBQ facilities.
Shop in Style and Discover Cairns' Live Entertainment Scene
With our location in the Cairns CBD, you'll always be a short walk from great places to shop and fantastic live entertainment. On Cairns Esplanade, make sure to visit The Pier Shopping Centre, which is also a short walk away from DFS Galleria and Orchid Plaza Shopping Centre - all of which offer a diverse variety of boutique stores and eateries. Cairns Central Shopping Centre is also located nearby, and it's the place to go for the CBD's most atmospheric shopping spot.

When you're in the mood for an exciting night out, Cairns' world-class venues have you covered. Coral Towers is just moments away from the Tank Arts Centre, Cairns Dinner Theatre and Cairns Convention Centre, where you can be sure to find something to your taste - just check what's on.
Make 2019 Your Year to Explore the Great Barrier Reef
You'll enjoy your best summer yet exploring the Great Barrier Reef, and if you're looking to be near it then there's no better location than Cairns. Great Barrier Reef tours take place daily near our resort, and your Cairns holiday won't be complete without exploring the breathtaking coral reefs and islands just waiting off the coast. Just a few must-see diving and snorkelling spots include Green Island, Arlington Reef, Michaelmas Cay, Opal Reef, Low Isles, and Agincourt Reef. If you're not looking to get in the water, savour the Great Barrier Reef on a glass-bottom boat tour, which is an equally incredible experience.
Discover Cairns' Stunning White Beaches
Cairns' world-famous beaches are only a short drive away from the Cairns CBD, and there isn't a better way to unwind during the summer season. Make sure to put Palm Cove, Trinity Beach, and Holloways Beach on your holiday itinerary - all of which offer picturesque white sand and crystal-clear ocean that's well worth discovering over a day out. If you're looking to work up a tan or jump on a paddle board this summer, Cairns' stunning white beaches are a must.
Journey into the Rainforest with the Skyrail Rainforest Cableway
As well as spending your days in the Great Barrier Reef and on the beach, make sure to leave some time for the Skyrail Rainforest Cableway. This popular attraction is guaranteed to be another highlight on your Cairns holiday, as you venture into the rainforest from above with an unforgettable sight waiting in its centre. The attraction takes just over two hours, with the midpoint being the spectacular Barron Falls: a breathtaking 125-metre waterfall at the heart of Barron Gorge National Park, which offers one view you won't forget.
Have the Perfect Stay in Cairns with Coral Towers Cairns
Cairns is yours with Coral Towers Holiday Apartments, perfectly located amongst picturesque palm trees trees on Cairns Esplanade. The best of Cairns is at your fingertips with our self-contained Cairns accommodation apartments, which offer a convenient choice for couples, families and groups seeking an unforgettable holiday this summer.
Spacious One Bedroom Cairns Accommodation for Couples
Our fully air-conditioned One Bedroom Apartments are an ideal option for couples or solo travellers with everything needed to unwind and relax. Enjoy a spacious living area with a fully equipped kitchen and laundry facilities, as well as a modern ensuite bathroom and private balcony with views facing the ocean. Just choose between one Queen-sized bed or two single beds - perfect for up to two guests.
Deluxe Two Bedroom Cairns Accommodation for Families
Families and groups will feel at home in our Two Bedroom Apartments, which offer one Queen-sized bed and two single beds for up to five guests. These fully air-conditioned apartments come with a spacious living area alongside a fully equipped kitchen and laundry facilities, as well as a large private balcony facing the ocean. You can also choose our Deluxe Two Bedroom Apartments, which have been recently refurbished.
Enjoy Our Relaxing Onsite Facilities During Your Stay
Coral Towers offers fantastic resort facilities to make the most of throughout your holiday, so you can be sure you'll always have something to do onsite. Cool off in our sparkling swimming pool whenever the mood strikes, and end a busy day by slipping into our relaxing heated spa. We also have WiFi available onsite, which you can take advantage of by the pool or in the comfort of your Cairns apartment. If you're arriving by car, enjoy peace of mind with our free undercover car parking.
Get the Best Prices for Our Cairns Accommodation Apartments Today
To get the best price for your holiday in Cairns, make sure to book directly with us at Coral Towers Holiday Apartments. With summer just around the corner, the best time to book is now, and by booking today you can start looking forward to your best holiday yet. Cairns awaits you this summer 2019 - book directly with us now at Coral Towers Cairns.