See Florida Georgia Line and More in March with Our Cairns Apartments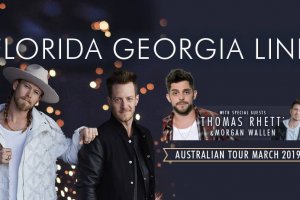 Don't Miss What's On in Cairns This March with Coral Towers Cairns!
Head to Cairns this March so you don't miss out on the highly anticipated performances from Florida Georgia Line, Matt Corby, Kitty Flanagan and Hot 8 Brass Brand - all taking place near Coral Towers Cairns.

Surrounded in the best live entertainment in Cairns, our affordable Cairns accommodation apartments are your ticket to a thrilling escape at the heart of the Cairns CBD. Relax near the famous Cairns Esplanade, and enjoy being just walking distance from the leading Cairns venues, shopping centres, and much more.

March brings a huge lineup of shows to the Cairns CBD, and by booking with Coral Towers today, you can be one step closer to an autumn break you won't forget.
Hot 8 Brass Band
Hot 8 Brass Band come to Cairns all the way from New Orleans to perform for the first time in two long years, and for those that have missed their high-energy jazz and funk with a brass twist, it's one live performance that's not to be missed.

Since 1995, the Hot 8 Brass Band have continued to take the world by storm with their traditional New Orleans brass sound, releasing a number of critically acclaimed albums and earning a Grammy nomination along the way. Known for their upbeat brass covers of famous songs such as Marvin Gaye's "Sexual Healing" and Joy Division's "Love Will Tear Us Apart", these talented trumpet, trombone and saxophone-wielding musicians offer a swinging all-brass performance that's one of the best in the world.

See the Hot 8 Brass Band in Cairns at the Tank Arts Centre on March 2.
Florida Georgia Line
Record-breaking country duo Florida Georgia Line stop in Cairns this autumn with two back-to-back shows at the Cairns Convention Centre. Recognisable for their catchy country style that incorporates elements of pop, rock and hip-hop, Florida Georgia Line is one of America's most innovative artists of the last decade.

Their most celebrated songs include debut single "Cruise", as well as "H.O.L.Y.", "This Is How We Roll", "May We All" and their 2017 collaboration with Bebe Rexha on "Meant to Be". To date, they have three bestselling albums, and the highly anticipated Can't Say I Ain't Country, set to be released in February.

Be the first to see Florida Georgia Line perform all-new songs at the Cairns Convention Centre on March 14 and March 15.
Matt Corby - Rainbow Valley Tour
Breakthrough singer-songwriter Matt Corby is all set to bring his bag of folk and indie-rock hits to the scenic Munro Martin Parklands in Cairns, and for his fans, there isn't a better backdrop to see him live this 2019.

Hailing from Sydney, Matt Corby received international recognition with his 2011 EP Into the Flame, which featured the soulful yet thumping hit "Brother". In 2016, he released his debut album Telluric, which reached the number-one spot on the ARIA Album Chart.

Now at the forefront of Australia's most famous artists, Matt Corby will tour the world with his brand new second album Rainbow Valley, but for locals in Queensland, his open-air performance at the Munro Martin Parklands in Cairns is a must-attend on March 23.
Kitty Flanagan - Smashing
See Australian comedian Kitty Flanagan with her brand new show Smashing, coming to Cairns for two nights this March. Loved for her natural charm, observational stand-up and knack for sketch comedy, Kitty Flanagan has left audiences laughing all over the globe, with some of her notable performances including the Edinburgh Fringe Festival, Just for Laughs, Birmingham Comedy Festival, and the Melbourne International Comedy Festival.

As well as her stand-up tours, Kitty Flanagan has made various appearances on British and Australian TV, including popular shows Utopia, The Weekly with Charlie Pickering, The Sketch Show and Full Frontal. For a night of laughing till it hurts, make sure to see Kitty Flanagan's Smashing at the Cairns Performing Arts Centre with two performances on March 29 and March 30.
Choose from Our One and Two Bedroom Cairns Apartments Today
Our simple choice of one and two bedroom self-contained accommodation offers couples, families and solo travellers an ideal stay in central Cairns. Be just minutes away from everything taking place in March as you relax in spacious, fully air-conditioned apartments that offer modern kitchen and laundry facilities, homely living areas, and superb private balconies with views towards the ocean.

Our One Bedroom Apartments are a fantastic home away from home for solo travellers and couples, while our Two Bedroom Apartments have enough room to accommodate families of up to five. If you're coming with a group, treat each other to our luxury Penthouse, which boasts a stunning deck area.

Whatever you have in mind, look no further than our self contained accommodation Cairns.
Book Now and Look Forward to Everything Cairns Has to Offer
The excitement in Cairns doesn't stop with world-class live entertainment in the CBD, as there are plenty more thrilling things to do just moments away from our Cairns holiday apartments.

Book with us, and you'll be near the best shopping hotspots in Far North Queensland, which include Cairns Central Shopping Centre, The Pier Shopping Centre and Orchid Plaza Shopping Centre - all of which boast hundreds of boutique shops and eateries. Head to the beach at your choosing, where within a short drive from our Cairns accommodation you can enjoy a blissful day on sun-kissed sand at Palm Cove, Trinity Beach and more. You'll also be in a prime location to explore the Great Barrier Reef, with numerous daily tours available from the Cairns CBD.

On top of that, our onsite swimming pool and spa will provide instant relaxation whenever the mood takes you. An unforgettable autumn getaway is just around the corner - to book directly and get the best available rates, just visit Coral Towers Cairns.