Spend Summer in Cairns with Coral Towers Cairns Accommodation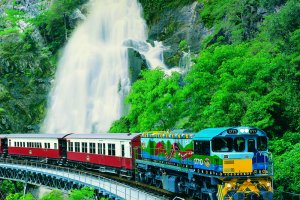 Make Cairns Your Summer Destination
Summer is approaching and if you're already thinking about your next escape, look no further tropical Cairns in Far North Queensland - the gateway to the beautiful Great Barrier Reef.

From alfresco dining on the waterfront to discovering the Great Barrier Reef, Cairns offers both relaxation and excitement for couples, families and adventurers, and there isn't a better time to explore everything it has to offer than when the hottest time of the year comes around!

Let Cairns provide your ultimate holiday this summer as you relax in our affordable Cairns apartments at Coral Towers - your ideal Cairns resort in an unbeatable location next to world-famous Cairns Esplanade. Modern, spacious and fully self-contained with everything you need, our Cairns accommodation is your key to the best things to do in Cairns, complete with luxury onsite facilities to make the most of throughout your Cairns holiday.
What to Do in Cairns with Coral Towers
In the summer heat, Cairns offers countless things to do and places to see. No matter whether you're looking to relax or take on an adventure this summer, Cairns Tropical North Queensland is a holiday destination that won't disappoint, boasting breathtaking beaches, award-winning restaurants and the Great Barrier Reef just off the coast.

With our central Cairns accommodation apartments at Coral Towers Cairns Esplanade, here is everything to look forward to on your summer holiday:
Cairns Esplanade
Cairns Esplanade is a scenic oceanfront promenade with plenty to see and do! This tourist hotspot boasts boutique shops, cafés, renowned Cairns restaurants and more - all of which are worth stopping by as you stroll with the sparkling ocean at your side.

Lined with palm trees and offering an overall relaxed atmosphere, Cairns Esplanade is a popular location to jog, cycle and eat in Cairns. After taking time to explore, reach the end of Cairns Esplanade to find Cairns Esplanade Lagoon: a free swimming attraction next to the ocean with public BBQs and breathtaking ocean views.
Great Barrier Reef Cairns
The famous Great Barrier Reef shouldn't be ignored on any holiday in Cairns, and summer presents the best time to hop on a boat and discover its pristine islands and unforgettable underwater sights.

Great Barrier Reef tours operate daily near our Cairns holiday apartments, all offering the unmissable opportunity to visit Green Island, Fitzroy Island, Haycock Island, Michaelmas Cay, Hastings Reef and more. Whether you're looking to dive in with your snorkelling gear or see the Great Barrier Reef on a glass-bottom boat, you'll have this spectacular location in the palm of your hand throughout your stay at Coral Towers Holiday Apartments.
Cairns Restaurants
Dining in Cairns is a must! The Cairns CBD has tempting restaurants, cafés and street food vendors in abundance, guaranteed to provide plenty of memorable food stops in between all your holiday activities in Cairns.

Find a handful of must-visit options on Cairns Esplanade, or visit Cairns Central or Orchid Plaza Shopping Centre to tuck in after a holiday shopping spree. For award-winning dining, head to The Pier Cairns, home to a number of famous Cairns restaurants offering world-class local cuisine to savour with picturesque views over Cairns Marlin Marina.
Cairns ZOOM and Wildlife Dome
Cairns ZOOM & Wildlife Dome is a leading Cairns attraction near Orchid Plaza and DFS Galleria Cairns. When you're craving excitement in the Cairns CBD, Cairns ZOOM has you covered, offering both wildlife encounters and adrenaline-rushing experiences to enjoy over one unforgettable day out.

Zip-lines, free falls, climbing walls, rope climbs and more - Cairns ZOOM and Wildlife Dome has it all if you're an active adrenaline junkie! Take on the Dome Climb for an incredible 360-degree view over Cairns, then complete your visit in the Wildlife Dome, which offers firsthand encounters with koalas, birds, lizards and more.
Cairns Beaches
Just a 15-minute drive from Coral Towers accommodation Cairns Esplanade, the best Cairns beaches are yours to discover. Your summer holiday isn't complete until you've visited the beach, and Cairns doesn't disappoint with its choice that includes Holloways Beach, Yorkeys Knob, Trinity Beach and Palm Cove Cairns.

Pack your picnic and beachwear and beach-hop from Machans Beach to Palm Cove, each offering a unique atmosphere with shady palm trees and crystal-clear seas for swimming, snorkelling and paddle boarding. Trinity Beach and Palm Cove are the most popular, offering a diverse selection of beachfront restaurants and shops to explore on your visit.
Barron Gorge National Park and Kuranda Village
Nature lovers are in for an unforgettable treat in Cairns on the Skyrail Rainforest Cableway. This popular Cairns tourist attraction, which lasts just over two hours, is the chance to see stunning Barron Gorge National Park from above with a midway stop at Barron Falls - a natural wonder that's sure to be one of the highlights of your Cairns summer holiday.

You can also dive into the heart of the rainforest at Kuranda Village, an adventure hotspot for holidaymakers with unique arts and crafts markets, cafés and restaurants, hands-on activities, wildlife encounters, scenic rainforest walks and lots more - not to be missed if you're looking to experience the region's Aboriginal culture firsthand.
Book Cheap Cairns Apartments Today
Make Cairns yours this summer with Coral Apartments Cairns! Our 1 and 2 bedroom apartments Cairns accommodation is affordable for both couples and families, with an additional penthouse option for families and groups looking to experience Cairns in luxury.

Our open-plan one and two-bedroom apartments feature a fully equipped modern kitchen with a spacious living and dining area that opens up to a large private balcony. Both options are fully air-conditioned, complete with cable TV, WiFi access and a homelike Queen bed in the master bedroom.

Our one-bedroom apartments are ideal for couples and solo travellers, while our two-bedroom apartments can accommodate families and groups of up to five guests. Alternatively, our penthouse apartment has all the best features of our one and two-bedroom apartments complemented by unrivalled views over Cairns Esplanade and the Pacific Ocean.

Begin your summer plans today - view our cheap direct rates by just visiting Coral Towers Cairns.