Stay with Coral Towers Cairns for the 2019 Cairns Expo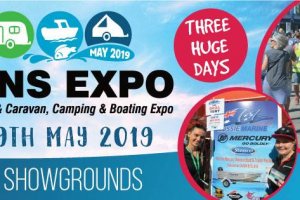 This May 2019, Cairns Expo, the Great Barrier Reef Masters Games and more exciting CBD events provide the perfect excuse to head to Cairns with loved ones and friends.

At Coral Towers Cairns, we offer affordable Cairns accommodation at the heart of the CBD, where you can relax just moments away from the most vibrant areas in the city. Our apartments comprise of self-contained one and two bedroom options - ideal if you're looking to visit Cairns with a partner or with the whole family.

See what we have to offer and book with us for May so you can be near these upcoming Cairns events!
Cairns Expo
Enjoy over 100 leading exhibitors in the home and outdoor lifestyle industry at this year's Cairns Expo, coming to the Cairns Showgrounds near our CBD Cairns accommodation.

Arriving for four days, Cairns Expo 2019 will host another fantastic exhibition of products and services involving outdoor living, travel, lifestyle hobbies, and home and garden renovation. Featured exhibitors this year include Tullmack Caravans and Latitude 25 RV Lifestyle Community, as well as other established Australian companies such as Savannah Camper Trailers, Sunseeker Caravans, Trinity Auto Group, Traveljoy, Cub Campers North Queensland, Compact Campfires, Paradise Luxury Motor Homes and more.

If you're looking to purchase your first RV, caravan or 4x4 vehicle, Cairns Expo offers the unmissable opportunity to see the industry's newest products up close, as well as chat one-on-one with industry experts that will help you find the right investment for you. Cairns Expo is also worth visiting if you love to camp or fish, where you'll find a superb assortment of must-have gear and equipment - some discounted exclusively for Cairns Expo.

On top of that, those looking to renovate or decorate their home and garden can discover and avail of first-rate services from some of Queensland's leading construction and renovation suppliers.

Cairns Expo is for all the family, and arrives with a fun entertainment program for all ages to enjoy over the four-day exhibition. This year, there'll be shows including Hands on Wildlife, Backyard Living Presentations and Kingbrown Camp Oven Kitchen, along with a whole host of kids' rides and attractions.

Don't miss it when it returns to Cairns from May 17 to May 19.
Great Barrier Reef Masters Games
2019 will mark another year for the Great Barrier Reef Masters Games, the fourth in a string of events that have taken place biannually since 2013.

Returning in May, the 2019 Great Barrier Reef Masters Games is all set to be another explosive event that will see over 2,000 middle-aged and veteran athletes from Australia, Oceania and South East Australia arrive in Cairns for four days of competitive sports.

More than 20 individual and team-based sports will take over Cairns throughout the games, and will include a variety of categories such as archery, athletics, basketball, beach volleyball, cricket, cycling, golf, netball, rugby, swimming, tennis, boxing, lawn bowls and more - providing something enjoyable for all participants and spectators.

Cairns has provided the perfect backdrop for the Great Barrier Reef Masters Games since its inaugural event, and this year, it's returning bigger and better than ever before.

Book with Coral Towers Cairns to cheer on the participants and enjoy the atmosphere at the 2019 Great Barrier Reef Masters Games, coming for four days from May 23 to May 26.
Senior Moments
After a string of well-received nationwide shows, Senior Moments arrives in Cairns with a one-off performance at the new Cairns Performing Arts Centre.

Starring veteran theatre performers John Wood, Benita Collings, Max Gillies and Geoff Harvey, Senior Moments promises to get you laughing with a number of relatable sketches that detail all the trials and tribulations of getting old. It's live comedy on stage with cantankerous wisecracks and musical numbers that are nothing short of silly, ludicrous and downright hilarious.

If you're not shy about being on the senior side, make sure not to miss Senior Moments at the Cairns Performing Arts Centre on May 15.
The Bamboos
Melbourne funk-meisters The Bamboos are gearing up for a special performance near our Cairns apartments, hot off the release of their 2018 album Night Time People.

Since 2000, The Bamboos have been at the forefront of Australia's funk and soul scene. They've released eight bestselling studio albums, a string of singles, and have been nominated for numerous ARIA Music Awards, including Best Urban Album and Best Blues & Roots Album.

Hailed as the best Australian band in their genre, The Bamboos - who comprise of nine gifted musicians - deliver catchy soul-driven funk that is even better when heard live.

Catch them performing "The Wilhelm Scream", "On the Sly", "I Got Burned", "Lit Up", "Step It Up", "You Ain't No Good" and the rest of their funky numbers at the Tanks Arts Centre on May 17.
MAMAMIA - The Australian ABBA Spectacular
Glamourous costumes, world-class vocals and all the biggest hits of ABBA, MAMAMIA: The Australian ABBA Spectacular delivers an authentic ABBA experience that brings one of music's most iconic bands back to life.

If you're one of the many that grew up loving ABBA, this spectacular ABBA tribute show is as good as seeing the real ABBA themselves. None of ABBA's timeless songs are left behind in MAMAMIA: The Australian ABBA Spectacular, where you'll get to sing and dance to well-known ABBA favourites such as "Dancing Queen", "Money, Money, Money", "Tragedy", "Knowing Me Knowing You", "Waterloo", "Mamma Mia" and the rest - all performed by world-class performers with a fiery passion for one of the greatest groups of the '70s and '80s.

Witness the sensational MAMAMIA: The Australian ABBA Spectacular for yourself at the Cairns Dinner Theatre near Coral Towers on May 17.
Don't Miss the Above Events in May with Our CBD Cairns Apartments
For an affordable stay in Cairns near Cairns Expo, the Great Barrier Reef Masters Games and everything else arriving in May, look no further than Coral Towers Cairns. Our Cairns accommodation apartments are air-conditioned, spacious and fully furnished with modern kitchen facilities, cable TV and WiFi, and provide exclusive access to our onsite guest facilities.

For more information, just click on Coral Towers Cairns Apartments.