Your Guide to the 2023 Cairns Festival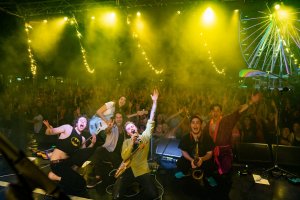 Take advantage of the 2023 Cairns Festival, which will be from August 25 to September 3. The Cairns Regional Council started Cairns Festival on May 26, 1961, and it is presently Regional Queensland's most significant and fastest-growing community event.

Cairns Festival is a 10-day annual festival of art, culture, and the natural beauty of Tropical North Queensland. The festival is a colourful, progressive, and collaborative celebration highlighting Cairns' unique cultural identity, including the much-anticipated return of Reef Lights at the Esplanade Lagoon.

You can catch the following festivities.
Festival HQ: Visit the Festival HQ on the Court House Gallery Lawn throughout the event. As the sun sets over a tropical skyline, enjoy the Cairns Festival experience with melodies from local performers. Bring a picnic blanket and drink from the Lawn Bar, and enjoy the beautiful vibes!
City Lights: Every night during Cairns Festival, from 7 pm to 11 pm, the festival will light the façade of the Cairns City Library. Indulge in a sensory overload as projections create a sequence of walk-through visual and aural experiences. Immerse yourself in the soundscape-tracked landscapes shown throughout this landmark Cairns establishment.
String Symphony by Spare Parts Puppet Theatre: Catch the String Symphony from August 25 to 28 at the Cairns Esplanade. It is a large-scale, interactive performance piece that explores connection, community, and collaboration through puppetry.
Roald Dahl's The Twits: Roald Dahl's terrible twosome The Twits will be at the CPAC Theatre on August 25. Whether or not you've read the book, it's time to see this family favourite live on stage from the zany imagination of the world's No. 1 storyteller.
Gulgi-barra by Miriki: Gulgi-barra, which means Sand People, is a new dance production that respects the Yidindji tribe's old Gulgi-barra clan in Far North Queensland. Uncle David Mundraby, a descendant of the Gulgi-barra clan, will share sand legends from August 25 to 30 at 6 pm at the Cairns Esplanade Eastern Events Lawn.
Grand Parade: With the Cairns Festival Grand Parade on August 26, the Cairns Esplanade transforms into a street parade of sparkling entertainment for the young and young at heart. Dress in your best flashy, glittered apparel, with enough sequins and sparkle to be visible from the heavens, and celebrate the Grand Parade at 5:30 pm. Head to the waterfront at 7:30 pm to watch a stunning fireworks display.
Reef Lights: Reef Lights returns to Cairns Esplanade for Cairns Festival 2023 after a smashing success in 2022! From August 26 to September 3 at 6:30 pm, the City of Cairns will light up in honour of where the rainforest meets the reef with Reef Lights, an awe-inspiring and immersive sensory light experience.
Cub Sport 'Jesus At The Gay Bar' Tour: This four-piece Brisbane indie-pop band has become known for their highly energetic, must-see live presentations. Catch them at Tanks Arts Centre - Tank 5 on August 31.
Soweto Gospel Choir - Hope: Hope is an all-new concert by the three-time Grammy®-winning Soweto Gospel Choir, commemorating songs and anthems from Nelson Mandela's South African Freedom Movement to Martin Luther King's Civil Rights Movement in 1950s America. On September 1, they will be at the CPAC Theatre.
Cairns Festival 2023 | Bite Club: Briefs Factory, Brisbane's award-winning cult-cabaret mischief-makers, circus stars, and heart-stopping hooligans, team up with immensely famous and sainted songbird Sahara Beck for Bite Club on September 1 and 2 at the Tanks Arts Centre - Tank 3.
Carnival on Collins: On September 3, join the annual street party celebrating tropical life as you stroll around the stunning Tanks Arts Centre and Cairns Botanic Gardens complex.
Queensland Symphony Orchestra - Barton meets Tchaikovsky: The Queensland Symphony Orchestra returns to Cairns for another outstanding evening. On September 3 at the CPAC Theatre, Chief Conductor Umberto Clerici will lead the musicians in a performance that promises to delight the senses.
Book Your Cairns Festival Accommodation
Plan your trip to ensure you attend all of the 10-day annual celebrations of art, culture, and the natural beauty of Tropical North Queensland. Book your Cairns Festival Holiday Apartments in Cairns with us at Coral Towers.

Coral Towers, nestled among the palm trees on Cairns Esplanade, provides Cairns apartment accommodation with spectacular ocean views out to Green Island. Book direct with us!